Fresh on the back of International Women's Day yesterday and with the Winter Paralympics starting today in the comparative wilderness of PyeongChang, that's South (not North, thankfully) Korea, just in case you were wondering), we thought we'd combine the two and bring you our Vive Inspirational Women in Sport.
With numerous honours, countless medals and a plethora of world records between them, whether from the pool, track or ring these women have truly broken boundaries, inspired a generation and raised their Bar. What's more, many of them have shown a level of determination, courage and drive to continue to be top of their respective fields after pregnancy, something that their male counterparts never need to consider. Here are our Vive (sorry, five – we keep doing that) favourite sportswomen inspiring girls everywhere to shake off their doubts, get out there and raise their bar.
Serena Williams (Tennis)
Making up one half of sport's most famous siblings, the American tennis star has a world record breaking 23 (and counting) grand slam wins, was ranked World Singles No. 1 eight times between 2002-2017 and is regarded as the greatest female tennis player of all time. Despite a number of challenges in their earlier years, including derogatory racist comments, Serena and her sister Venus, maintained their love for tennis and have battled hard to win an astonishing 22 Doubles titles together, including 3 Olympic Gold medals. As if that isn't enough, Williams returned to tennis in true Serena style on International Women's Day yesterday, just six months after the birth of her first child. Is there a finer sportswoman out there? Well, if there is, they might just be below…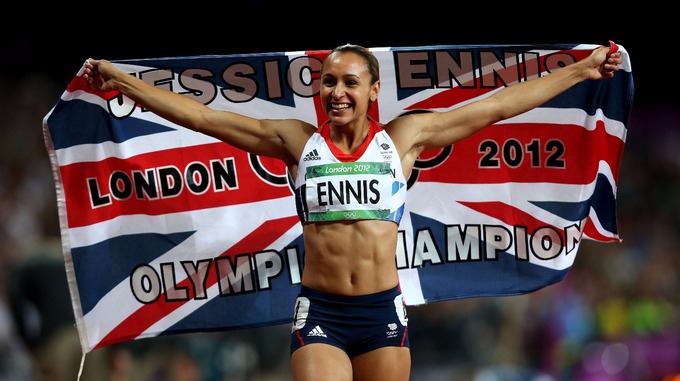 Jessica Ennis-Hill DBE (Athletics)
With a football stand in her name, a gold post box and the Freedom of the city of Sheffield, Jessica Ennis Hill has well and truly ran, jumped and shot her way into the hearts of nation. The 2009, 2010 & 2012 World Heptathlete of the Year has also made a successful comeback, winning the World Heptathlon Gold in 2015, following the birth of her first child, Reggie. Ennis Hill truly etched her name into the nation's hearts and consciousness when she was the stand out star of Team GB's famous 'Super Saturday', winning an Olympic Gold Medal in front of an adoring home crowd at London 2012, the same year she was awarded The Sunday Times Sportswoman of the Year.
Rebecca Adlington OBE (Swimming)
From the athletics track to the swimming pool, 'Becky' Adlington was Britain's first Olympic swimming champion for twenty years when she won not one but two Olympic gold medals at the 2008 Beijing Olympics in the 400m and 800m freestyle events (at the same time setting a new British, Commonwealth, European AND Olympic record for the 800m freestyle). Not content with just those particular feats, Adlington also swam her way to Olympic medals in both events back in her home Olympics at the London Aquatics Centre in 2012. After a number of TV and media appearances, including as a pundit for the BBC, Adlington has even been rumoured to indulge in the odd Vive bar with the Almond & Coconut flavour being her particular favourite! It seems she knows a good protein bar when she tries one too!  
Adlington's success comes from her strong drive and genuine passion for the sport. Here's some advice she has to aspiring athletes: "My number one golden rule is loving what you do. You have to enjoy it. You will spend hours upon hours every week training hard, pushing your body to the limit. You have to have that passion and love otherwise the dedication won't follow. Make sure you always believe in yourself no matter what. It doesn't matter what level you are at, the blood, sweat and tears are totally worth it I promise you". 
Laura Kenny CBE (Cycling)
Sticking with the successful London 2012 Olympic theme, Laura Kenny (then Trott) pedalled to prominence in the velodrome as a relative unknown 20-year old and quite literally, has never looked back, to become the most successful female track cyclist in Olympic history and TeamGB's most successful Olympic female competitor of all time. She has since married fellow Team GB cyclist, Jason Kenny (as an avid cyclist, we're jealous at just how good their baby, Albert, could be on two-wheels)! Both Kennys were nominated for the BBC's prestigious Sports Personality of the Year 2016 and are both back on their bike (thankfully not a tandem), with Laura an integral cog in the wheel of the Women's Team Pursuit at the recent UCI World Track Championships in The Netherlands.  
Marie Bochet (Downhill Skiing)
As the Winter Paralympics begins, French Para Alpine skiier Marie Bochet will be eyeing up her fifth Paralympic Gold Medal, having swooped the board at the 2014 edition in Sotchi where she won an incredible four golds across the Downhill, Super-G, Combined and Giant Ski events. Despite being only 23 years old, Bochet is an 18-time medallist on the world stage and has had such a truly glittering career that it can only possibly go downhill from here.